Webinar: Generative AI and Mobile Application Security
Join our webinar to learn how generative AI can help solving modern challenges of mobile application security and complying with the regulatory requirements.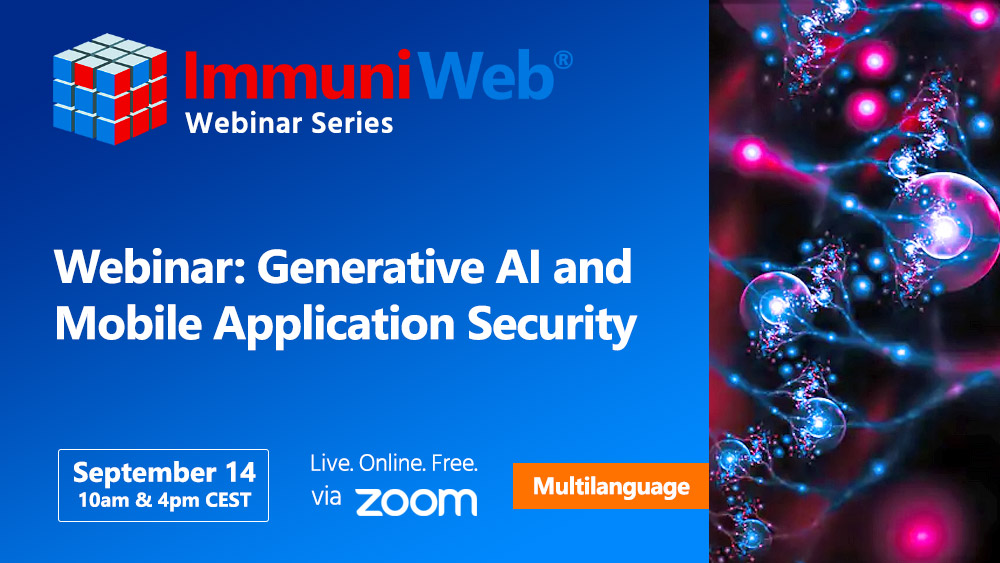 After a highly successful launch of ImmuniWeb Neuron Mobile we are hosting a special webinar dedicated to mobile application security strategy in 2023 including:
Regulatory and legal requirements to test mobile security
Third-party and privacy risks to your mobile ecosystem
Improving traditional mobile security testing with AI
We will also cover the unique value proposition of Neuron Mobile including:
Rapid detection of OWASP Mobile Top 10 risks
Zero false-positives SLA and money-back guarantee
24/7 access to our security analysts
The webinar will take place on September 14, 2023 at 10am and 4pm CEST in Zoom. The number of places is limited, please book your seat now:
Dr. Ilia Kolochenko, ImmuniWeb's Chief Architect & CEO, will personally lead the webinar. Your questions and requests for new features are warmly welcome: you may both use chat or speak live voice.
Recurrent participants may be eligible to become ImmuniWeb® Certified Professionals subject to academic and professional qualifications: details will be shared during the webinar. CPE credits may be requested just after the webinar.
All our existing customers and partners will receive a personal calendar invite to join. If you don't receive your invitation, please reach out to your account manager or simply register on the link above.
What's next: