Spring 2023 Webinar Series
Join our spring webinars to discover major updates of ImmuniWeb AI Platform that address emerging trends in cloud & application security, cybercrime, and data protection regulation.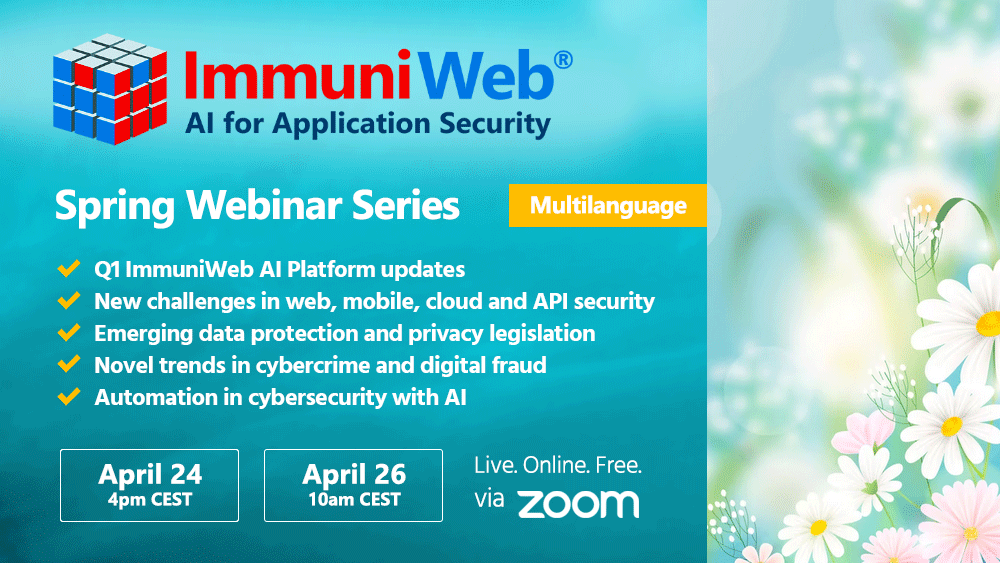 Following the major Q1 update of the award-winning ImmuniWeb® AI Platform, we are happy to host Spring Series of ImmuniWeb webinars for our customers and partners:
Place: Zoom Platform
Dates: April 24, 4pm CEST and April 26, 10am CEST
Language: English + live translation and subtitles in 10+ languages
During this 45-minute webinar you will learn about:
Q1 ImmuniWeb AI Platform updates
New challenges in web, mobile, cloud and API security
Emerging data protection and privacy legislation
Novel trends in cybercrime and digital fraud
Automation in cybersecurity with AI
A live Q&A session will be held just after the webinar. Please register to get a personal calendar invite:
During the webinars, the audience will have a possibility to ask live questions to Dr. Ilia Kolochenko, the Chief Architect at ImmuniWeb.
Attendees will be eligible to get CPE credits for each webinar. Condition to the fulfillment of professional experience and academic requirements, some attendees may likewise be eligible to become holder of ImmuniWeb® Certified Professional certification. The certification does not have a fee.
Please register as soon as possible as the number of places is limited. Registration is subject to approval, all our existing customers and partners will receive their personal invitations by email.