Product Training: Penetration Testing Products
Join our live product training to learn new things, hone your ImmuniWeb® AI Platform skills, earn CPE credits, and qualify to become ImmuniWeb® Certified Professional.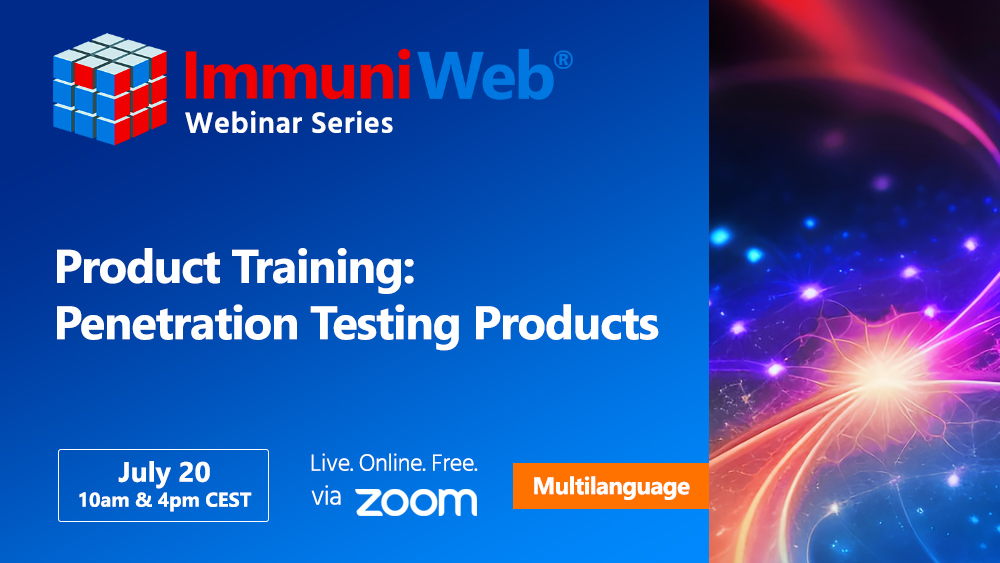 In the month of July, ImmuniWeb is hosting a live webinar dedicated to ImmuniWeb Penetration Testing Products for all our customers and partners. Prospective customers are also welcome subject to free registration.
During this 45-minute webinar you will learn about:
Cloud penetration testing considerations
Leveraging MITRE ATT&CK Matrix for penetration testing
Legal duties to conduct manual penetration testing
Continuous versus one-time penetration testing
External versus in-house penetration testing
The webinar is held in English, live subtitles are available in more than 20 languages. For convenience of the participants from different time zones, two identical sessions of the webinar will take place on:
Dr. Ilia Kolochenko, ImmuniWeb Chief Architect & CEO, will personally lead the webinar. Your questions and request for new features are warmly welcome: you may both use chat or speak live voice.
Recurrent participants may be eligible to become ImmuniWeb® Certified Professional subject to academic and professional qualifications: details will be shared during the webinar. CPE credits may be requested just after the webinar.
All our existing customers and partners will receive a personal calendar invite to join. If you don't receive your invitation, please reach out to your account manager or simply register on the link above.