Co-Creator of SpyEye Banking Trojan Avoids Prosecution In France Due To Clerical Error
Read also: Israeli police dismantle an international crypto fraud ring, crypto casino Stake lost $41M in a hack, and more.
Views:

3.4k
Read Time:

2 min.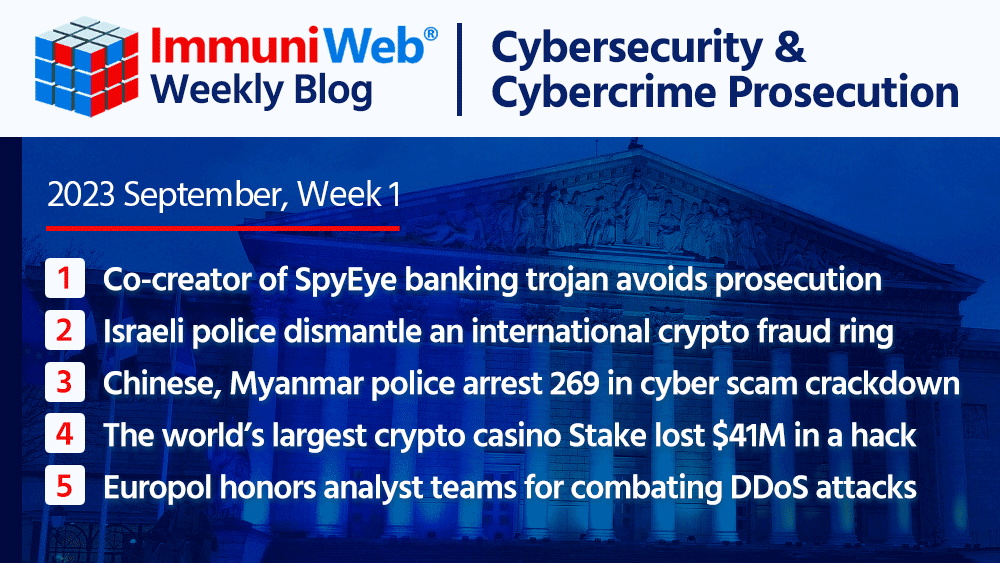 Co-creator of SpyEye banking trojan avoids prosecution in France due to clerical error
A French court acquitted the notorious hacker Hamza Bendellaj aka "Bx1" and "Happy Hacker" due to a procedural error made by the prosecution.
Bendellaj was accused in France of a series of PyLocky ransomware attacks on French companies that he carried out from his prison cell in the US, where he is serving a 15-year prison sentence for his involvement in the development, marketing, and sale of the SpyEye banking trojan.
Bendellaj was prosecuted in France for multiple offenses, including attempted extortion and illegal access to computer systems, for which he could face up to 7 years in prison and a fine of 100,000 euros. However, the case against him was dropped because of a mistake in the court documents that mentioned the JobCrypter ransomware, instead of PyLocky.
Israeli police dismantle an international crypto fraud ring
Israel Police's Lahav 433 National Cyber Crime Unit in cooperation with the Bavarian Cyber-Warfare Unit of the German police have busted an international cybercriminal ring that defrauded investors out of tens of millions of euros and provided digital infrastructure to fraudulent call centers around the globe.
The police raided the offices of an unnamed company that allegedly offered "sting software" that allowed to defraud victims. During the searches, six individuals were arrested and dozens were detained. The suspected leader of the criminal network has reportedly fled the country.
In related news, a US court has convicted four men for their involvement in an investment fraud and money laundering operation that conned victims out of more than $18 million.
Chinese, Myanmar police arrest 269 in cyber scam crackdown
Nearly 270 individuals allegedly involved in Myanmar-based cyber scam operations were apprehended as part of a major telecom fraud crackdown led by Myanmar and Chinese law enforcement agencies.
Among the detained were 186 Chinese, 66 Myanmar nationals, 15 Vietnamese, and 2 Malaysians. The police also arrested 21 suspects who played key roles in scams resulting in 120 million yuan ($16.5 million) in losses.
During the raids, the police seized a variety of tools used in telecom fraud schemes, including computer equipment, mobile phones, SIM cards, bank cards, and scripts.
The world's largest crypto casino Stake lost $41M in a hack
Cryptocurrency casino Stake has been robbed of over $41 million in digital assets after an attacker has compromised two of the company's hot wallets.
According to blockchain investigators, the threat actor stole $15,700,000 in Ethereum and another $25,600,000 in Binance Smart Chain (BSC) and Polygon. The hackers then converted the stolen funds into Ethereum and deposited in multiple external cryptocurrency wallets.
The company acknowledged the security breach but said that the user funds were not affected.
Europol honors analyst teams for combating DDoS attacks, investment fraud
The European police office (Europol) announced the winners of its annual Criminal Analyst of the Year Award. The award recognizes Member States who have made significant contributions to crime prevention and combating organized crime.
This year, two awards were presented - Operational Analyst 2023 and Strategic Analyst 2023. The first award went to Germany's Cybercrime Investigations Team of the Regional Criminal Police in Hessen (Hessisches Landeskriminalamt) for their work on a case targeting European-wide Distributed Denial of Service (DDoS) attacks. Other two finalists include Greece's Hellenic Police (Ελληνική Αστυνομία) and Spain's National Police.
The Strategic Analyst 2023 award was given to the German Federal Criminal Police (Bundeskriminalamt) for their analysis on investment fraud. French national police and Berlin police were also recognized for analysis on a new phenomenon in illegal car sub-letting and analysis of the National Centre for Missing and Exploited Children respectively.
What's next: