Illegal Betting Ring Used Satellites To Hijack Live Feeds Of Sports Events
Read also: NLBrute malware dev pleads guilty, Piilopuoti darkweb marketplace dismantled, and more.
Views:

5k
Read Time:

2 min.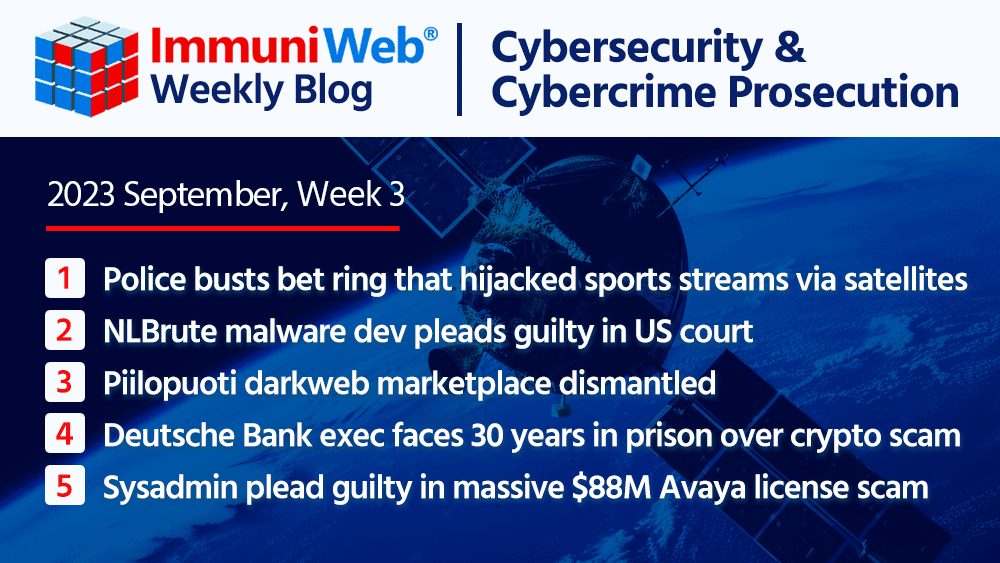 Police bust illegal betting ring that used advanced tech to hijack live feeds of competitions
Europol announced the take down of a suspected illegal betting and match-fixing network that used satelllites to hijack live streams of sports games before they would reach betting houses. The fraudsters would then place online bets knowing the results of the games ahead of the time.
A police investigation into suspicious online bets launched in 2020 identified a Spain-based criminal gang comprised of Romanian and Bulgarian nationals. The group targeted major sports events such as Asian and South American soccer leagues, Bundesliga games, the UEFA Nations League, the 2022 Qatar World Cup, and the ATP and ITF tennis tournaments.
During the raids, 23 members of the group were arrested, including its alleged boss and a trader of a betting house who validated the gang's online bets. The police also seized satellite dishes and signal receivers, nearly 50 bank accounts, 80 phones, cash, and €13,000 in counterfeit banknotes.
NLBrute malware dev pleads guilty in US court
Dariy Pankov aka dpxaker, a developer behind the NLBrute malware has pleaded guilty in a US court to conspiracy to commit access device fraud and computer fraud.
Pankov was arrested in October 2022 in Georgia and was extradited to the US in February 2023, where he was charged with computer fraud, conspiracy, and access device fraud. Dpxaker is believed to be a creator of the NLBrute brute-forcing tool designed to compromise computers and steal login credentials.
The US autorities said Pankov sold stolen credentials on a specialized darkweb site and earned more than $350,000 in illicit proceeds. A plea bargain suggested he would face up to 5 years in prison plus Pankov agreed to forfeit $358,437. A sentencing date has not yet been set.
Piilopuoti darkweb marketplace dismantled
Finnish authorities together with Europol, Eurojust and German police have dismantled a darkweb marketplace called Piilopuoti specializing in selling drugs.
The Finnish-language site has been in operation since May 2022 and was used as a way to smuggle narcotics into Finland from abroad, the Finnish Customs (Tulli) said.
The agency has not provided any additional details regarding Piilopuoti's takedown, citing the ongoing investigation.
Former Deutsche Bank exec faces up to 30 years in prison over crypto scam
Rashawn Russell, a former Deutsche Bank investment banker has admitted his involvement in a fraudulent cryptocurrency trading scheme where he run a scam investment fund called "R3 Crypto Fund"  that defrauded victims out of $1.5 million.
According to federal prosecutors, Russell promised his clients large "guaranteed returns" on a series of crypto investments but instead used investors' money for his personal benefit. He also created fake documents to deceive his clients about their investments' performance.
In addition, Russell pleaded guilty in a separate identity-theft case where he used stolen credit card information to make unauthorized transactions. Russell is now facing up to 30 years in prison for his crimes. He will also be required to pay restitution exceeding $1.5 million as part of his plea bargain.
Sysadmin and wife plead guilty in massive $88M Avaya license scam
An Oklahoma couple, Raymond Bradley Pearce and Dusti Pearce, pleaded guilty to their role in an international scam scheme that sold about $88 million worth of pirated software licenses stolen from the US-based telecom company Avaya.
According to the court documents, Bradley Pearce, who worked as a customer service employee for Avaya, used his privileged access to generate tens of thousands Avaya software licenses which he sold to distributors who then re-sold lisensing codes for a price ranging from under $100 to thousands of dollars.
Pearce's wife, Dusti, allegedly helped operate the scheme, running the financial side of the business. The Pearces pleaded guilty to conspiracy to commit wire fraud. They both face up to 20 years in prison and must forfeit at least $4 million, as well as cash, gold and other assets.
What's next: