Uber's Ex-CSO Gets Three Years' Probation Over 2016 Hack Cover Up
Read also: A British hacker pleads guilty to the 2020 Twitter hack, China reports the first arrest over the use of AI, and more.
Views:

2.9k
Read Time:

2 min.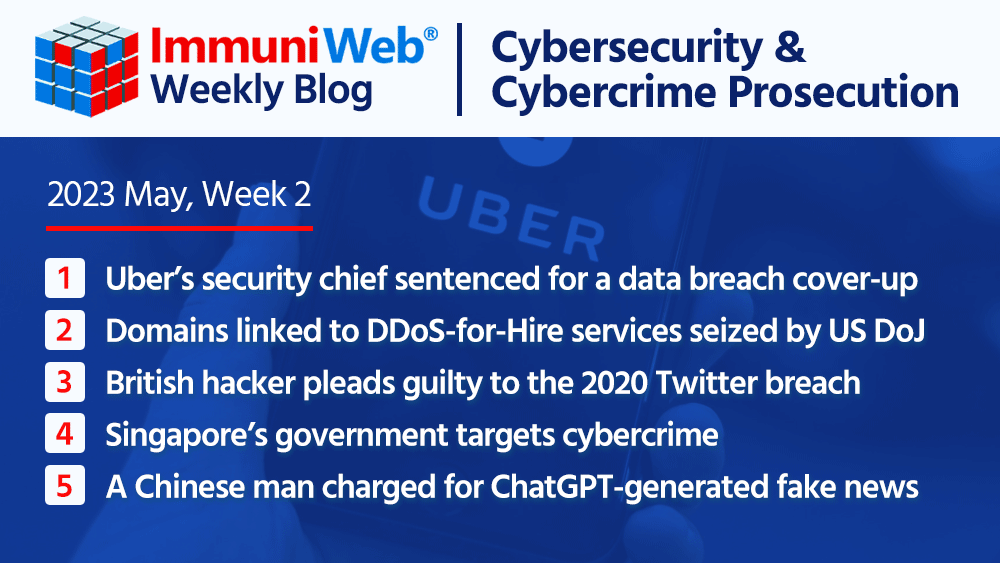 Former Uber's security chief gets probation for concealing a major data breach
Joe Sullivan, the former chief security officer at the ride-hailing giant Uber, was sentenced to a three years' probation plus 200 hours of community service over an attempt to conceal a massive 2016 data breach resulting in the theft of company data on more than 50 million Uber users and drivers.
Sullivan, who worked at Uber between April 2015 and November 2017, learned of the breach in November 2016 shortly after providing testimony to the US Federal Trade Commission in relation to a previous, much smaller, security breach at Uber that took place in 2014.
However, Sullivan decided to keep mum about the 2016 hack, and even paid the Uber hackers $100,000 in bitcoin through the company's bug bounty program, asking that they sign non-disclosure agreements promising not to reveal the breach.
13 more domains linked to DDoS-for-Hire services seized by law enforcement
Law enforcement authorities have seized 13 more internet domains linked to so-called DDoS-for-Hire or booter services as part of an ongoing international police effort aimed at disrupting online platforms offering DDoS attacks for a fee.
According to the US Department of Justice, out of 13 seized domains, 10 are reincarnations of services taken down in a 2022 December operation that targeted 48 domains associated with booter platforms.
The US authorities charged six alleged operators of DDoS-for-Hire services in late 2022, four of them pled guilty earlier this year. All four defendants are expected to be sentenced in summer 2023.
23-year-old British hacker pleads guilty to the 2020 Twitter breach
Joseph James O'Connor, a UK citizen extradited to the US from Spain last month, has admitted to his role in various cyber crimes, including SIM-swapping attacks, cyberstalking, and the July 2020 Twitter hack that compromised multiple Twitter accounts of politicians, celebrities, and high-profile companies to promote a Bitcoin scam.
Joseph O'Connor, known online as PlugwalkJoe, has pleaded guilty on May 9, 2023 in New York to multiple charges, including computer hacking, extortion, and money laundering.
The sentencing date for Joseph O'Connor has been set for June 23, 2023. He faces a total maximum of over 70 years behind bars if convicted.
Singapore's government targets cybercrime
Singapore's government introduced for first reading in Parliament a new bill called 'The Online Criminal Harms Bill'. The purpose of the document is to empower access restrictions to websites, online accounts, or content "which is criminal in nature or used to facilitate or abet crimes," including such activities as phishing scams, misinformation, cybercrime, drug trafficking and the spread of obscene images.
The bill is part of a wider suite of legislation aimed at protecting Singaporeans in online space.
The particular document would grant the authorities wide-ranging powers to curb content online: from blocking the spread of certain online content, to restricting online accounts and removing apps from app stores.
A Chinese man faces up to 10 years in prison for ChatGPT-generated fake news
Chinese police apprehended a man suspected of generating and disseminating online a fake story about a fatal train crash using Open AI's ChatGPT tool. This appears to be China's first arrest under the proposed new AI regulations that, for one, prohibit users from leveraging generative AI to engage in activities that pose the risk to national security, damage public interest or are illegal.
The fake article was published by 20 accounts on Baijiahao, Baidu's content creation platform, and was viewed over 15,000 times by the time it caught the attention of the authorities.
The suspect, identified only by his surname Hong, was charged for "picking quarrels and provoking trouble," a charge that can lead to a five-year prison term, or 10 years of imprisonment in cases deemed especially severe.
What's next: