ImmuniWeb to Participate at Black Hat MEA 2023 with CYBER
ImmuniWeb will take part at the Black Hat Middle East and Africa (MEA) 2023 from 14th to 16th November at the Riyadh Exhibition and Convention Center in Malham, Saudi Arabia.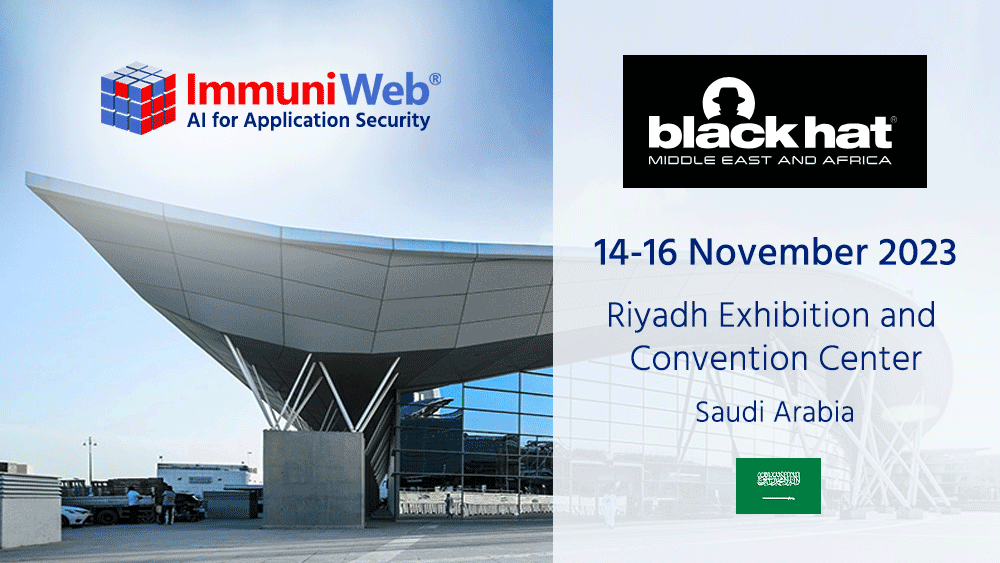 The event is anticipated to be a gathering of over 40,000 infosec professionals, featuring 300+ exhibitors and renowned speakers from over 120 countries.
This collaboration is especially noteworthy as we partner with CYBER, represented by Abdulrahman S. Alkenani. ImmuniWeb will be proudly represented by our esteemed colleague, Arthur Gekelman.
Prior to the main event, ImmuniWeb representatives, alongside our partner CYBER, are excited to engage in a myriad of networking and informative activities, aimed at fostering collaboration, sharing of insights, and relationship building within the industry.
Black Hat MEA 2023 promises its attendees to dive deep into the unknown realms of cybersecurity, facilitating the sharing of innovative ideas and proven strategies. With the theme "Infosec on the Edge", it is a unique opportunity to stay a step ahead in this rapidly evolving domain by learning from global CISOs, exploring groundbreaking hacking tools, and acquiring niche tactics from the brightest minds in the industry.
ImmuniWeb is thrilled to be a part of this monumental event that aligns with our commitment to harnessing the power of collaboration for a safer and more secure digital realm. We firmly believe that such platforms amplify the collective intelligence of the cybersecurity community and pave the way for more resilient and advanced digital infrastructures worldwide.
For those interested in engaging with our team during Black Hat MEA 2023 or to schedule a specific meeting with our representatives, please reach out to sales@immuniweb.com.
Black Hat Middle East and Africa 2023
Riyadh Exhibition and Convention Center,
Malham, Saudi Arabia
November 14-16, 2023
https://blackhatmea.com/