ImmuniWeb Will Participate in the Swiss Pavilion at Gitex Global, Dubai
Only at GITEX GLOBAL, you get the opportunity to interact with the most transformative technologies that are shaking up ecosystems worldwide.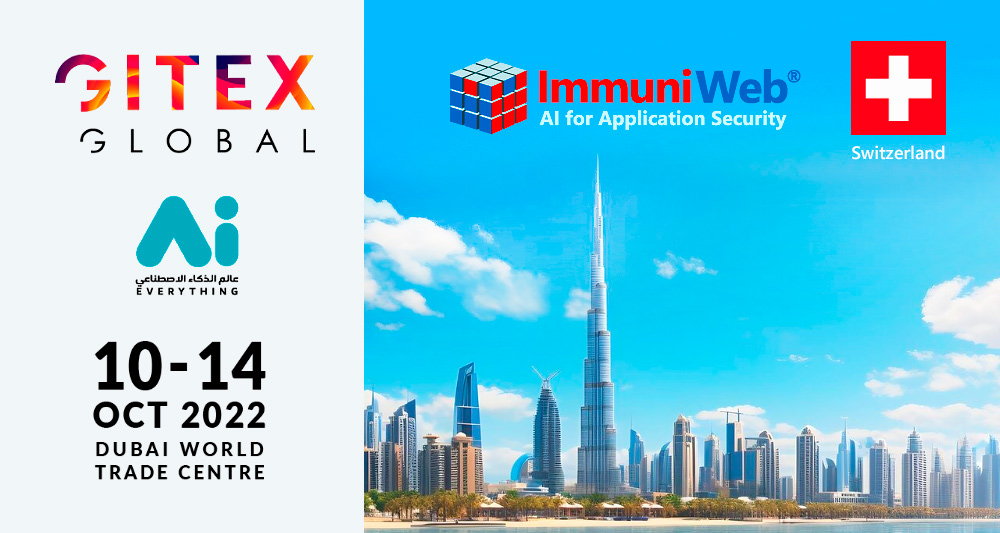 The key sector at the event is cybersecurity. Cyber leaders are in a critical position as the gap between business and security leaders widens. As per World Economic Forum Global Cybersecurity outlook, 87% of top executives are planning to improve cyber resilience in their organization.
ImmuniWeb Swiss company works like clockwork and will be presented in the Swiss pavilion and present watches as a gift.
Find out the 'crypto-nite' of Fintech hackers, how the Middle East can be more cyber-resilient, investor risk in cyber attacks, and the lurking threats on social through leading security authorities and hackers on stage.
Do not miss this global event.
GITEX GLOBAL, Dubai
10th and 14th October 2022
More info: https://www.gitex.com/