ImmuniWeb Is a Sponsor of Digital 2021 ISF World Congress
Meet ImmuniWeb team at the leading cybersecurity event Digital 2021 the ISF World Congress this October 25-28.
ImmuniWeb is proud to be among the leading cybersecurity companies participating at Digital 2021 the ISF World Congress virtual event. ImmuniWeb Team will be showcasing the award-winning Application Penetration Testing, Attack Surface Management, Dark Web Monitoring and Third-Party Risk Management solutions. Special offers will be available during the event. Please get in touch with your account or partner manager to get the details.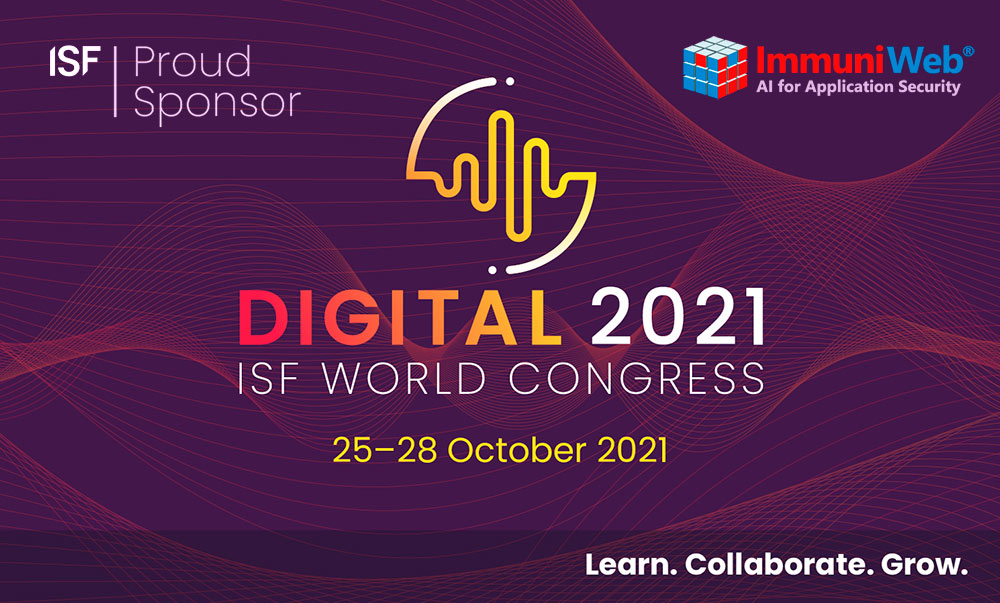 Digital 2021, the ISF World Congress, will be a virtual event with a global reach, providing access to new and unrivalled content for more Members than ever before. This global event offers attendees an opportunity to discuss and find solutions to current security challenges, and gain practical advice from peers and leading industry experts from around the world. Join over 3,000 global senior executives and business leaders for keynote presentations, workshops and networking sessions where you can share knowledge, best practice and thought leadership in a confidential peer-group environment.
Digital 2021, the ISF World Congress
Virtual Event
25-28 October 2021
Additional Information about the event: https://www.securityforum.org/attend/digital-2021-the-isf-world-congress/