ImmuniWeb is a Silver Sponsor and Speaker at the Cyber Security & Cloud Expo Europe
We are pleased to invite you to visit ImmuniWeb's stand at the Cyber Security & Cloud Expo Europe, which will be held in Amsterdam, Netherlands, September 20-21, 2022.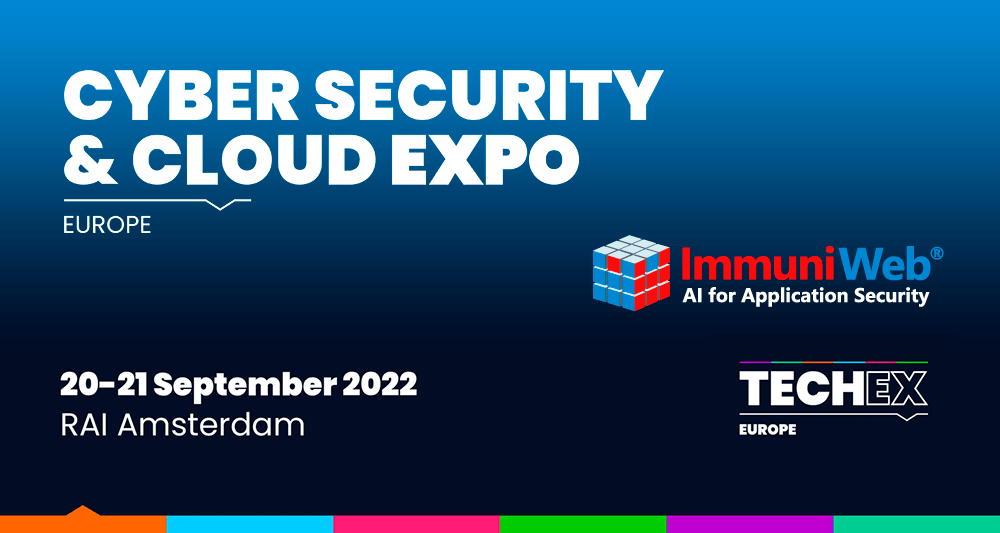 Use this code IMMUNIWEB25 to get your 25% discount to purchase a Gold Pass for this event.
Europe's leading Cyber Security & Cloud exhibition and conference will be hosted on 20-21st September 2022 for its sixth annual event. Cyber Security & Cloud Expo event is co-located with IoT (Co-Locating 5G), AI & Big Data, Blockchain, Edge Computing and Digital Transformation Week, so you can explore the future of these convergent technologies under one roof.
7,000 attendees are expected to congregate from across Europe including CTO's, Heads of Innovation and Technology, IT Directors, Telecom Providers, Developers, Start-Up's, OEM's, Government, Automotive, Operators, Technology Providers, Investors, VCs and many more. With solution-based case studies, top-level content, live demos and several networking opportunities, this show is not to be missed.
Meet the ImmuniWeb's team at Stand No: 257. ImmuniWeb's representative will speak at the event on September 20, 10.45am. Panel: Creating a Cyber Resilient Business.
Cyber Security & Cloud Expo Europe
Enabling a secure future
HYBRID EVENT | 20-21 SEPTEMBER 2022
RAI, Amsterdam & Online
More info: https://cybersecuritycloudexpo.com/europe/
Free registration: https://cybersecuritycloudexpo.com/europe/ticket-types-and-prices
Discount code for Gold Passes: IMMUNIWEB25