ImmuniWeb's Enhanced AI Boosts Its In-Depth Application Security Testing Offering
September 30, 2019
Ongoing improvement of our AI technology and Machine Learning models used for intelligent automation and acceleration of application security testing further reduces its complexity and costs.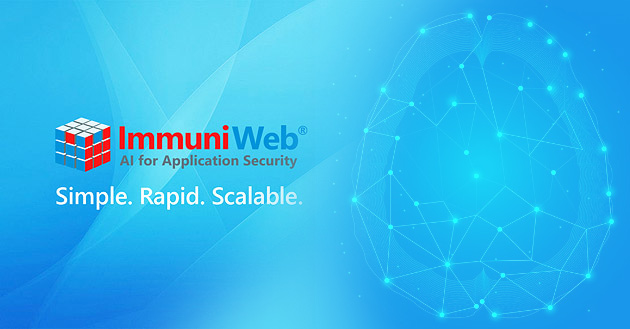 At ImmuniWeb, we firmly believe that most of the time-consuming tasks in security testing can be intelligently automated without loss of quality or reliability. Our approach to application penetration testing enables our security experts to focus on the most complicated and untrivial tasks that truly require human genius. The approach considerably saves our time, reduces our costs and enables us to offer unbeatable prices for our clients and partners.
Implementing our approach, we are incrementally gleaning and structuring unique data on web and mobile application security vulnerabilities, their exploitation and remediation. The gathered Big Data is eventually used to train existing and new Machine Learning models.
The newly trained Machine Learning models, leveraged by our award-winning ImmuniWeb® AI Platform, now empower us to offer in-depth testing delivered even in a shorter period of time and at unbeatable price. Our firm commitment to quality likewise incrementally strengths, and we gladly offer every customer a rapid delivery and zero false-positives SLA corroborated with a contractual money-back guarantee.
ImmuniWeb® AI Platform offering with updated deliverables and pricing includes:
Ilia Kolochenko, CEO and Founder at ImmuniWeb, says: "At ImmuniWeb, we are committed to delivering continuous improvement and innovation to our customers and partners. Every feedback or new feature request that we receive is being handled and analyzed with the utmost care and attention. Thanks to this valuable and timely input, we are continuously implementing ground-breaking functionality to better respond to a wide spectrum of emerging threats and risks.
Importantly, we strive to keep our offering as simple as possible to use and to manage. Likewise, we reduce complexity and costs of our customers thereby enabling them to focus on their top business priorities and solving internal cybersecurity skills shortage. More great news is on the horizon, please stay tuned."
Clients and partners looking to start with an easy solution that does not require an existing application security program, are invited to explore our flagship ImmuniWeb Discovery. It offers a piece of mind to organizations of all sizes with continuous asset discovery equipped with actionable security ratings, 24/7 web security and compliance monitoring, enhanced with data leaks and Dark Web monitoring.