ImmuniWeb Joins JVP Play CyberNYC
June 17, 2020
ImmuniWeb joins Jerusalem Venture Partners (JVP) Play CyberNYC program, entering the US market and New York City (NYC) ecosystem.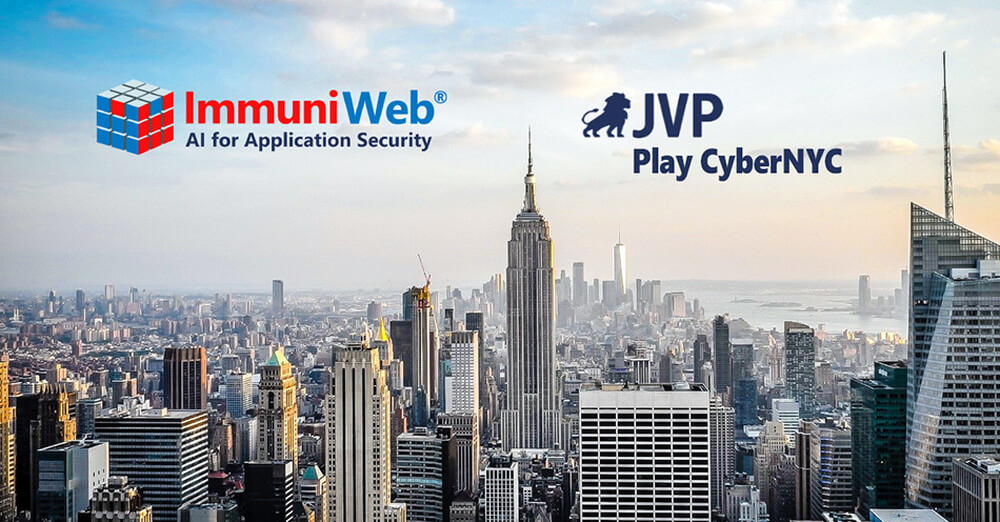 ImmuniWeb, a global application security company, announced today that it has been selected to join JVP Play CyberNYC, a leading cybersecurity program led by JVP in collaboration with the New York City Economic Development Corporation (NYCEDC).
JVP Play CyberNYC is building an innovation and talent cluster, creating an unparalleled match between best-in-class technologies and New York City's unique economic leadership position.
ImmuniWeb has been selected among 10 innovative cybersecurity startups from the US, France, Argentina, Switzerland, and Israel with an outstanding growth potential to be supported for a strategic expansion and rapid growth in the US.
The program, based out JVP's International Cyber Center in Soho, Manhattan will assist startups in forming strategy, go-to-market, business development, team building and executive hires, as well as funding, on their journey to become industry leaders.
Ilia Kolochenko, CEO & Founder at ImmuniWeb says: "We are delighted to turbocharge our rapid global growth with a rocket fuel for the booming US market. We have successfully established a proven track record of delivering unbeatable value for money in many European countries, and now we feel well prepared and fully equipped to deliver value and excellence on the world-largest cybersecurity market.
The competition is intense there, and we do not expect an easy track, but we are well determined to conquer the market with our award-winning AI technology, unified team and invaluable advice from the brightest cybersecurity minds brought together by JVP and the government of NYC. New York City is an amazing place to start your business in the US. We already have a US-based team serving our clients both from the West and East parts of the country, and we are now excited and adrenalized to amplify this growth."
About JVP
Founded in 1993 under the famed Yozma program by Dr. Erel Margalit, Jerusalem Venture Partners has created and invested in over 140 companies in Israel, the US and Europe. JVP's investment strategy is spearheaded by a deep expertise in identifying opportunities from inception and growing them into global industry leaders. Through our theme-driven focus and strong network of strategic partners, we seek to stay ahead of the latest market trends and address the most relevant market needs. The unique Margalit Startup City model and its dedicated team ensure we effectively deliver this added value directly to each of our current and prospective portfolio companies.
About ImmuniWeb
ImmuniWeb® AI Platform provides a full spectrum of Application Security Testing (AST), Attack Surface Management (ASM) and continuous security monitoring solutions tailored for DevSecOps. Named the Winner in "Best usage of Machine Learning/AI" category at SC Awards Europe, ImmuniWeb outperformed IBM Watson for Cybersecurity. Distinguished by Gartner, IDC and Frost & Sullivan for innovation and excellence, ImmuniWeb pioneers the global application security market. ImmuniWeb Community offering recently attained a mark of 50,000 daily security tests.