A ShinyHunters Gang Member Pleads Guilty In The US
Read also: Ukraine and Germany hunt for DoppelPaymer ransomware actors, a Nigerian scammer faces up to 20 years in prison, and more.
Views:

4.5k
Read Time:

2 min.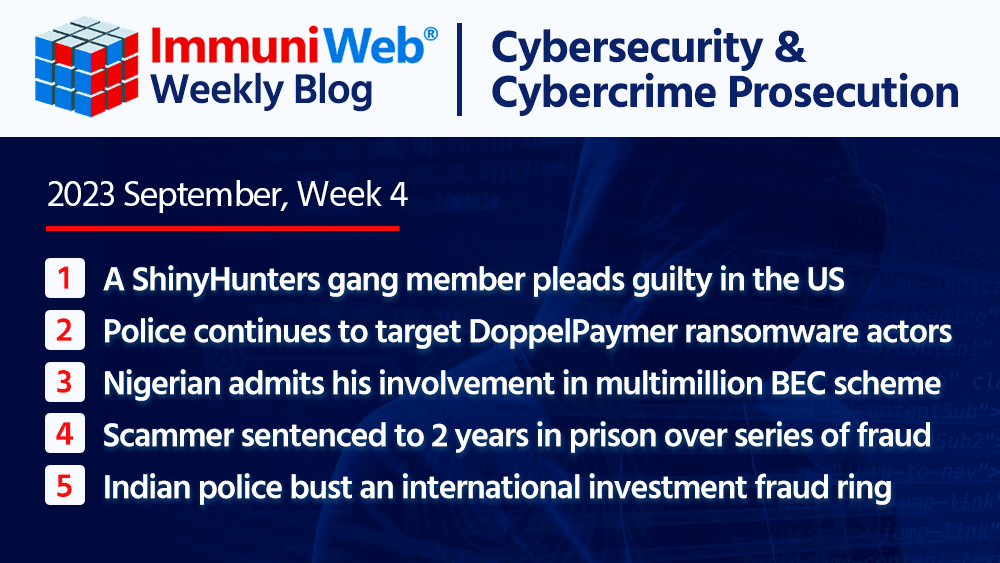 A ShinyHunters gang member pleads guilty in the US
Sebastien Raoult, a French citizen believed to be a member of the notorious ShinyHunters cyber extortion gang, has pleaded guilty to wire fraud and aggravated identity theft charges in a US court.
Sebastien Raoult, aka Sezyo Kaizen, was arrested in Morocco and extradited to the US earlier this year. As per prosecutors, Raoult and his co-conspirators hacked multiple companies worldwide using phishing techniques and stole customer records, personal information and financial data.
The stolen info was then sold on dark web forums, including RaidForums, EmpireMarket, and Exploit. In total, the hackers stole hundreds of millions of customer records, causing estimated losses of over $6 million. If found guilty, Raoult could face imprisonment of over 27 years.
Ukraine, Germany police continue to target DoppelPaymer ransomware actors
German and Ukrainian authorities conducted raids at the homes of a 44-year-old Ukrainian national believed to be a key member of the DoppelPaymer ransomware gang and a 45-year-old man from southern Germany suspected of laundering money for the gang.
First spotted in 2017, the DoppelPaymer gang took responsibility for ransomware attacks against multiple high-profile companies and organizations, including Kia Motors America, the Dutch Institute for Scientific Research (NWO), Compal, PEMEX (Petróleos Mexicanos), Banijay Group SAS, Bretagne Télécom, and the Düsseldorf University Hospital.
The German authorities started an investigation into the group in 2020, which identified masterminds behind the DoppelPaymer operation and issued arrest warrants for two suspects - Igor Turashev and Igor Garshin. The authorities believe that evidence seized in the recent raids may help them to track down the alleged gang's leaders.
A Nigerian admits his involvement in a multimillion-dollar BEC scheme
A Nigerian national extradited to the US from Canada has pleaded guilty to his role in a multimillion-dollar Business Email Compromise (BEC) scam.
The US authorities allege that Kosi Goodness Simon-Ebo and his accomplices hacked into the email accounts of targeted individuals and businesses and used them to send spoofed emails to victims to trick them into transferring money to bank accounts under their control.
The scammers intended to steal roughly $7 million but actual losses were a little over $1 million, with Simon-Ebo controlling at least $45,925 of the stolen funds. Simon-Ebo faces a maximum prison sentence of 20 years and will also have to pay restitution of $1,072,306.
A scammer sentenced to 2 years in prison over series of fraud schemes
A US citizen has been sentenced to 2 years in prison + six months in home detention for his role in an international fraud ring that orchestrated a series of scams, including romance fraud, lottery scams, and business email compromise (BEC) attacks that caused over $1.4 million in losses.
According to the court documents, Tymi Hakim and his associates targeted elderly and vulnerable people, including recent widowers. Hakim provided his co-conspirators in South Africa with phones, which they used to contact victims. He also opened and controlled bank accounts through which the criminals laundered money obtained via illicit activities.
In addition to his prison term, Hakim was sentenced to three years of supervised release and was ordered to pay over $1,4 million in restitution and to forfeit around $672,000.
Indian police bust an international investment fraud ring
Delhi police arrested five individuals over their alleged involvement in an international investment fraud operation that deceived people with the promises of high returns on their investments.
The gang lured victims into investing money through the Telegram channels. The crooks used 11 fake companies and 25 fraudulent bank accounts for money laundering.
During the searches, the police officers seized 25 mobile phones, 31 SIM cards, PAN cards, debit cards, Aadhar cards, and other evidence. According to the police, the alleged leaders of the gang are based in the Philippines and Dubai.
What's next: