ImmuniWeb Neuron Webinars
Join our webinars dedicated to ImmuniWeb® Neuron ‐ the only fully automated DAST security scanning solution for web applications and APIs with a zero false positives SLA.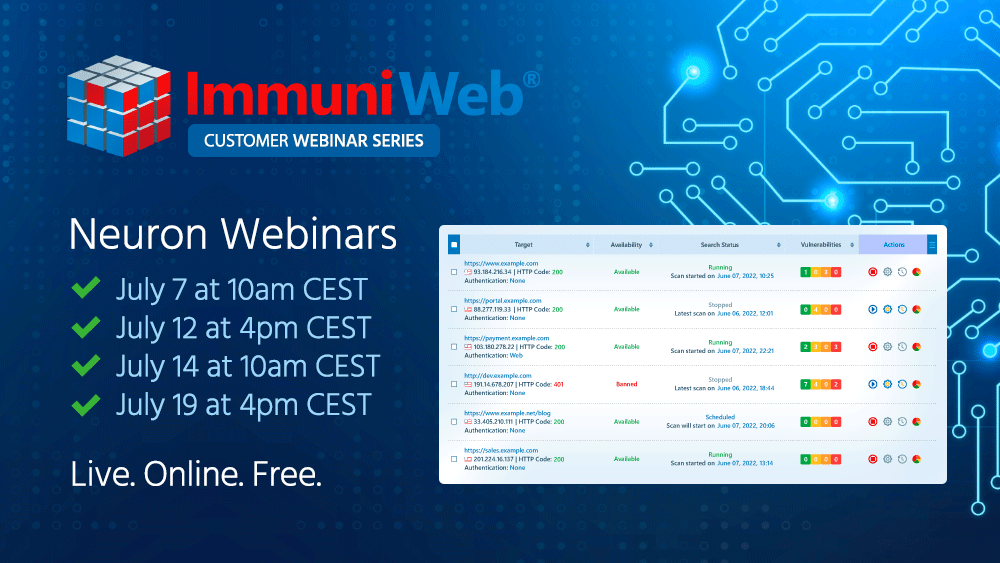 After several years of research and development, ImmuniWeb® Neuron is now available to our customers and partners. Combined with other products on the award-winning ImmuniWeb® AI Platform, Neuron forms the most comprehensive stack of web application security testing for any need, scope and budget: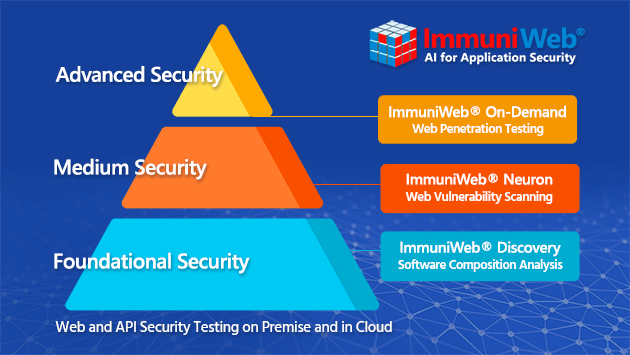 Leveraging ImmuniWeb® AI Platform for Web Security Testing
During the webinars, we will discuss the following topics:
Intelligent automation of your web and API security scanning
Implementation of holistic, risk-based and threat-aware testing strategy
Defense of on-premise and cloud-native web application and microservices
Seamless integration of web security scanning into your CI/CD pipeline
Fulfillment of compliance requirements while reducing your costs
ImmuniWeb Neuron pricing, packaging and targets management
Benchmark with alternatives (value for money)
Four identical sessions of the webinar are designed to accommodate our customers and partners from various time zones. Each session will last one hour: 45 minutes for the presentation and 15 minutes for a live Q&A session with our Chief Architect. Your questions and feature requests are welcome! The sessions will take place on:
July 7 at 10am CEST
July 12 at 4pm CEST
July 14 at 10am CEST
July 19 at 4pm CEST
Our existing customers and partners will receive personal invitations by email. New customers and partners are welcome to join by sending a participation request to sales@immuniweb.com – please indicate your specific interest in ImmuniWeb and the most convenient session. CPE credits for participation will be available for each session.
What else you can do: