Deep Dive into the Dark Web: Cyber Threats and Legal Risks
Join our exclusive webinar to see a live demonstration of Dark Web ecosystem and to better understand your personal and corporate risks related to data breaches and security incidents.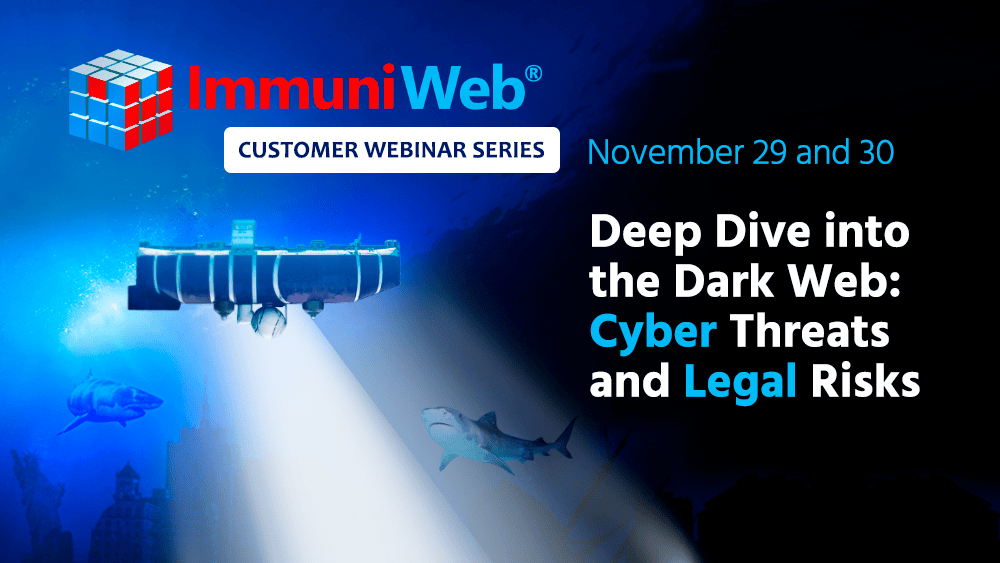 Following the record number of data breaches already attained in 2022, ImmuniWeb is hosting an invitation-only webinar dedicated to cyber threats and legal risks stemming from data breaches and their subsequent exposure on the Dark Web.
The one-hour webinar has the following structure:


1. Live Trip to the Dark Web:
Real-time demonstration of most recent stolen data for sale
Real-time demonstration of most recent backdoored systems for sale
Real-time demonstration of most recent dumps of sensitive data for sale
2. Legal Risks and Personal Liability of Executives for Data Breaches:
Personal liability of cybersecurity professionals and executives
Emerging legislation and case law to bear in mind
Minimizing your corporate legal risks
3. Dark Web Monitoring with ImmuniWeb:
Introducing honeypots and canaries to proactively hunt cyber threats
Introducing malware and ransomware data dumps monitoring
Introducing unlimited takedown of phishing websites
Two identical sessions of the webinar are designed to accommodate our customers and partners from various time zones. Each session will last one hour: 45 minutes for the presentation and 15 minutes for a live Q&A session with our Chief Architect. Your questions and feature requests are welcome!
The webinar sessions will take place on:
November 29 at 10:00am CET
November 30 at 4:00pm CET
Our existing customers and partners will automatically receive personal invitations by email. If you are not an existing customer or partner, please request to participate by filling out the form for November 29 or November 30 session. In case of approval, you will get an invitation and calendar invite to join.
CPE credits for participation will be available for each session.
What else you can do: